The movie was Grand Hotel from 1932, and the first time I had ever seen it was about a year ago on cable. The man on the left is John Barrymore, Drew's Grandfather. As I was watching this movie, I thought WOW that woman sure is gorgeous. I had wondered if she had ever done anything else after this movie. Turns out she did, she was very famous. The woman is JOAN CRAWFORD, and I was in love.
I couldn't believe that the woman that I had heard about, only from another movie, MOMMIE DEAREST, was this beautiful. Me being me, the first thing about her that I noticed besides her eyes, was the fact that she didn't wear a bra. I loved that. Always have and always will love braless women. Unless they're old, too big, or FAKE. Anyway, I digress, this woman was funny, sexy, and classic hollywood. I was mesmerized. More to the fact that I had only seen the movie that Faye Dunaway had done, from the book that Christine Crawford had written. Maybe it was true and maybe it wasn't, but all I knew was that I was hooked on Joan Crawford.
I have watched several of her movies since the day that I stumbled onto this one, and she is always good. Recently, I was able to take a friend of mine to a showing of THE WOMEN at an outside amphitheater. When she appeared on the screen, the crowd literaly gasped. It was great. I then knew that I wasn't the only one who was in love with Joan Crawford.
Back to Grand Hotel, it's interesting to think of the Barrymore legacy. Lionel Barrymore, Drew's Great Uncle was in the movie as well. Drew Barrymore is from a true acting family. Her dad, John Barrymore Jr., had even done a movie or two before he went into seclusion. Unfortunately, he died earlier this year. The legacy lives on with Drew Barrymore.
Me being a writer, I would love to remake this movie with Drew Barrymore, but that is a huge undertaking in itself. I have the phone numbers, but where do I start? Just wanted to share. Some of you may think I'm a NUT, but that's nothing new. If you haven't seen this movie, I highly recommend it. They don't make them like they used to. Classic stars, and classic hollywood. I love it.
None of us common folks will ever know what the real Joan Crawford was like. Believe what you want, but I would like to think that she was a nice person. Then again I could be wrong.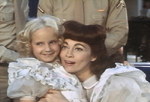 "No wire hangers, EVER!"-----Joan Crawford (as played by Faye Dunaway)