They've finally chosen a new Bond. His name is, Daniel Craig. He was in the movies Layer Cake and Road to Perdition. He's been in others, but those are probably the ones that you know. He is a good actor, but it'll be hard to see Bond as a blonde. Much less as a rougher looking guy. Not so suave and debonair as the others.

I am a HUGE Bond fan.

This will be the sixth actor playing Bond.

Sean Connery will always be the best James Bond.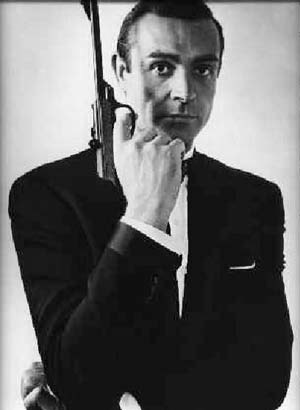 George Lazenby was good, but not a good actor. He was a model.


Sean Connery came back for one more movie.


Roger Moore showed up and brought a new attitude to Bond. He was sarcastic and a bit more funny.


Timothy Dalton I really liked because he had that hard edge to him.


Then came Pierce Brosnan, the one I'd been waiting for since Remington Steele.



Now there's Daniel Craig. I think that he'll do good. I am very excited. They say the release date for the new Bond film, Casino Royale, is November of 2006. I'll be there. He will do 3 films and then they will get another or continue to use him.

It should be fun.
Sorry if you guys aren't interested, but it's not all about you.