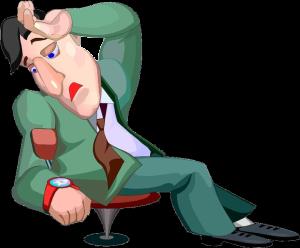 I feel that people are waiting for me to write on my blog. I figure that I should write while I'm at the computer. If I don't, I may forget what I wanted to write. Although, there are several times that I have nothing to write, but I force myself to. I want the people that read this, to have something new to read.

I write dumb shit in hopes that you'll laugh, or I try to be deep and show another side of me. Several of the things that I write are only for me, and you guys could care less. I never like that because I feel that I'm letting my readers down. I know that I'm no Robert Frost, but still....


It was so much easier when I had Brig and Matt to pick on. Now I've just got my own observations, and they're sometimes, usually, always boring. My writing teacher in college said, "Write what you know, and write from your heart." I try, but you girls don't care about movies as much as me. Then again maybe I'm just trying too hard to be clever.

Sorry to waste your time.....again.