Along time ago in Phoenix, Arizona a young man named Phillip Duke II told his friend that Johnny Depp was in A Nightmare On Elm Street. She laughed and said that Phillip was wrong.
Cut to: Years later and I finally was able to prove my point. That was only because she enjoys giving me a hard time.
Now for a little about me. This is in case you don't know me. I have tons of useless movie info in my head. I am also a HUGE James Bond fan. Something else that I have been studying since the end of last November are MUSTANGS. Not the horse, the car.
So tonight I am talking to the other Supervisor, J. Egbert. Me, him, and the boss start talking about Transformers. Keith, the boss, hadn't seen the movie. He was asking what it was about. I explained it to him. Then I explained what kind of things transform. There's a Camaro, a helicopter, a diesel, a Mustang that's a police car, and all kind of other things.
J. Egbert says, "No, that's not a mustang. It's a Charger."
I said, "No, it's a mustang."
"I swear it's a charger."
"The police car?"
"Yes."
"I'll bet you 500 dollars."
"I don't have 500 dollars."
"Ok, 20"
"How about a dollar?"
"Ok."
We shake.
Now I always make the mistake of jumping right to a big amount when I know that I am right. 96 percent of the time I am right. Sometimes I am wrong. That would explain why I owe Kris 1,000,000 dollars.
Well here's what I know.
How dare you bet against the two things I love, movies and mustangs.
Then just about a minute after that I start telling them how I am watching all 21 Bond films before the new movie comes out. I told them that on Saturday morning I watched Goldfinger and Thunderball. John says that Thunderball is his favorite. Keith explains how he was scared of Oddjob. The Japanese guy with the hat in Goldfinger. John then explains how he went in 1973 and saw Diamonds are Forever with his parents.
He said, "Even though I don't like Roger Moore, it was pretty good."
I said, "Well it's a good thing you don't like Roger Moore, because he wasn't in that, Sean Connery was."
"I could swear it was Roger Moore."
"Want to bet another dollar?"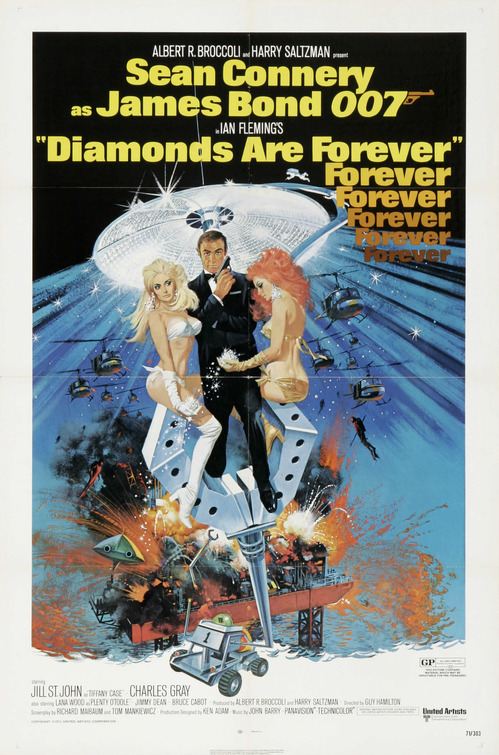 I wonder what I will do with my 2 dollars?
Probably give it to Kris to pay off the million.
I love you all. Thanks for reading.